What is CNC Oscillating Knife Cutting Machine?
Kingbeck's CNC Oscillating Knife Cutting Machine is a CNC Machine for fabric, cardboard, leather, cloth, paper, gasket, fur, honeycomb board, sponge, foam, composite material and other soft material cutting.
The Machine is widely used in clothing industry, shoes making industry, apparel and fashion cloth industry, automotive interior industry, luggage industry, package industry, decoration industry, electronic industry, composite materials industry etc.
Our machine adopts advanced and mature rolling table design, the cutting width of your material can be customized according to your request, the theoretical cutting length is unlimited, with vacuum suction design (small sample adsorption is no longer difficult) and automatic camera positioning function , it can automatically finish the positioning and cutting of printing materials, and the contour can be cut without manual positioning.
Why Choose KINGBECK?
KINGBECK provides all kinds of best CNC cutting machine for sale to suit your needs

KINGBECK's CNC cutting machines adopt genuine software and cutting system, high quality original CNC cutting tools

KINGBECK offers affordable CNC cutting machine price list for your CNC cutting plans without any intermediate, you will buy the best CNC knife cutting machines at the lowest price from us

KINGBECK also offers a comprehensive array of CNC cutting solutions, 24/7 one-to-one service and support, which is available free
Our Features
1.Electric shock and head, strength, vibration frequency is high, up to 25000 times per minute.
2.Cutting machine transmission system adopts imported gear, rack, cutting precision to achieve zero error.
3.Using Servo-motor from Mitsubishi, With computerized control.
4.The configuration of oscillating knife, drag knife strokes, tools and optional half knife, cutter, slotted knife, knife, cutter, indentation knife and other tools, can achieve the office of line drawing, cutting, cutting, dotted half cut off all the cutting and milling cutter cutting, various materials, V-CUT slot milling, pressing wheel, indentation size the utility function and so on scratch hard materials.
5.Fully automatic camera positioning function: automatic positioning and cutting of printed materials, without manual positioning can be cut out the outline.
6.The type of rolling table design advanced, platform width can be customized size, no limit theory of cutting length, by vacuum suction design, super wind, strong suction (sample sheet is no longer difficult).
7.The completely independent research and development of computer control system, namely the humanized operation interface, support for remote teaching, remote maintenance, remote upgrade, let the customer with more peace of mind.
8.Any CAD software can be connected. It is widely used for plotting and cutting for the industries and sectors like garment, shoe making, cases, handbags, laser cutter molds plotting, lighting fixtures, advertising gifts, self-adhesive and color box packing.
9.Optional charging rack and automatic feeding device.
Applicable Cutting Material & Optional Knife Available
You can pick suitable knife cutters according to the material to be cut.
With standard and advanced tool changer module, you can change the cutters easily.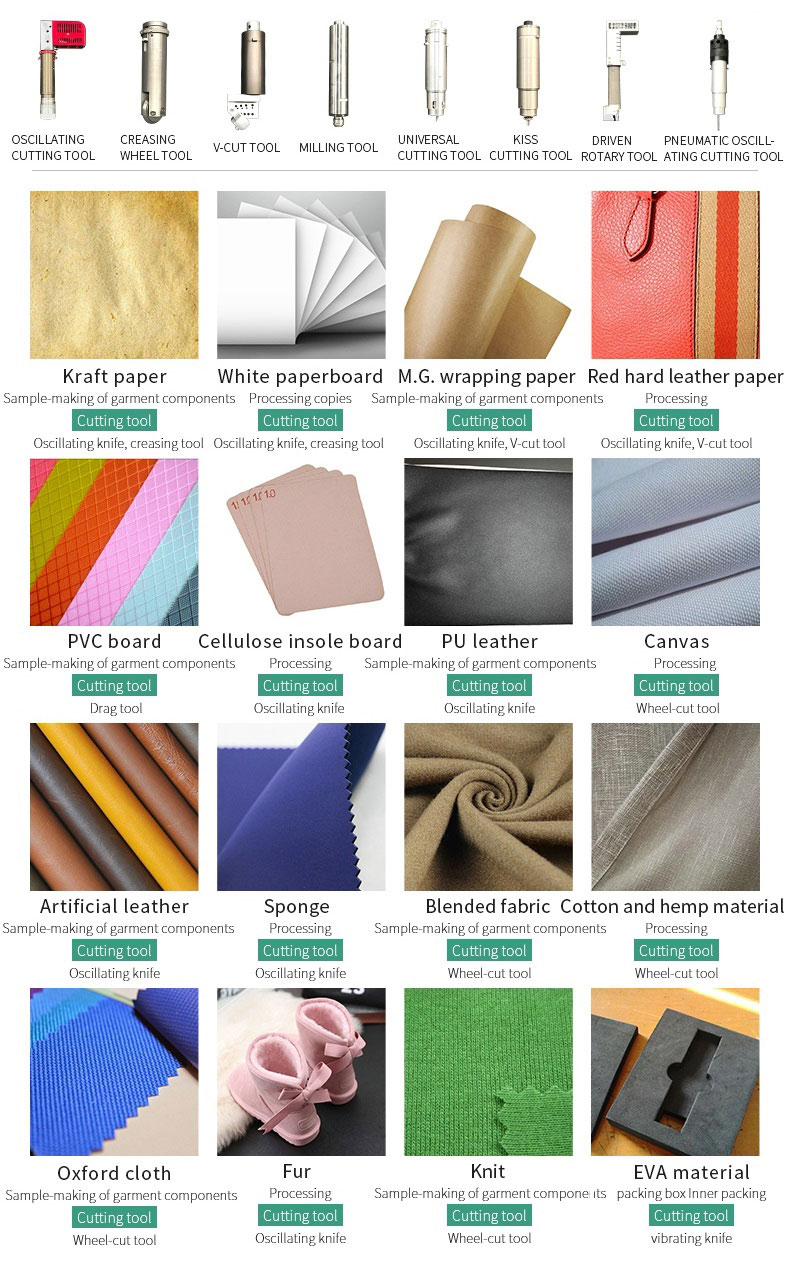 CNC Oscillating Knife Cutting Machine