Machine Photos
CO2 laser marking machine is a type of gas laser machine with wavelength 10.6um. CO2 is filled in the sealed glass tube as the medium to radiate laser. Given high voltage, CO2 gas in the tube generates laser and after amplification laser beam with higher energy comes out. Galvanometer scanning system can change the path of the laser beams to guarantee high-speed automatic marking finished.
Machine Features
1. Non-contact processing, no damage to the workpiece, no tool wear, marking quality is better.
2. High speed and high efficiency, suitable for marking and engraving on most of non-metal materials.
3. Non-removable permanent marking, unlike ink jet paiting, finish is better.
4. Use import RF laser, equiped with good beam performance.
5. Long service life and stable working, can work 24 hours continuously.
6. Adopting red dot positioning system to make an accurate position to avoiding Wasting material.
7. Compatible with regular image format(bmp, jpg, gif, tga, png, tif, etc) , vector image format(ai, dxf, dst, plt, etc )and image processing fuction(grey conversion, black and white image conversion, and net point processing )
8. Support multi-language.
Machine Parameters
| | |
| --- | --- |
| Laser Power | 30w/55w/100w/150w RF tube |
| | 50w/80w/100w CO2 glass tube |
| Working Area | 110*110mm/200*200mm/300*300mm |
| Marking Speed | ≤8000MM/S |
| Laser Wavelength | 10.64μm |
| Response Time | 0.5ms |
| Marking Depth | ≤5MM |
| Repetition Precision | ±0.01MM |
| Cooling Mode | Air Cooling or Water Cooling |
| Graphic Formats Supported | bmp,jpg,gif,tga,png,tif,ai,dxf,dst,plt,etc. |
| Power Source | AC 110/220V±10%, 50/60Hz |
| Working Temperature | 0-40 degree |
| Working Humidity | 5%-85%(No condensation) |
| Working Environment | Clean, free of dust |
| Gross Power | < 1250W |
| Safety Protection Class | IP54 |
| Laser Generator Safety Class | IV |
Applicable Industries & Materials
CO2 laser marking machine is applied to kinds of non-metallic materials and part kinds of metallic meterials, like acrylic, wood, leather, fabric, bamboo products, glass, architectural ceramics, rubber, etc. Widely used in pharmaceutical packaging, food packaging, beverage packaging, plastics, textiles, handicrafts, electronic components, communications, watches, glasses, printing and other industries. It can be used to marking, engraving, hollowing and cutting varoius non-metallic materials such as texts, symbols, graphics, images, barcodes, serial numbers,etc.
| Applicable Industries | Applicable Materials |
| --- | --- |
| shoes | nonmetal material |
| clothing | part of metal |
| packaging | Paper, glass |
| advertising | PVC, plastic |
| tobacoo | rubber, leather |
| food | wood, ceramics |
| medicine | fabric surface marking |
Working Samples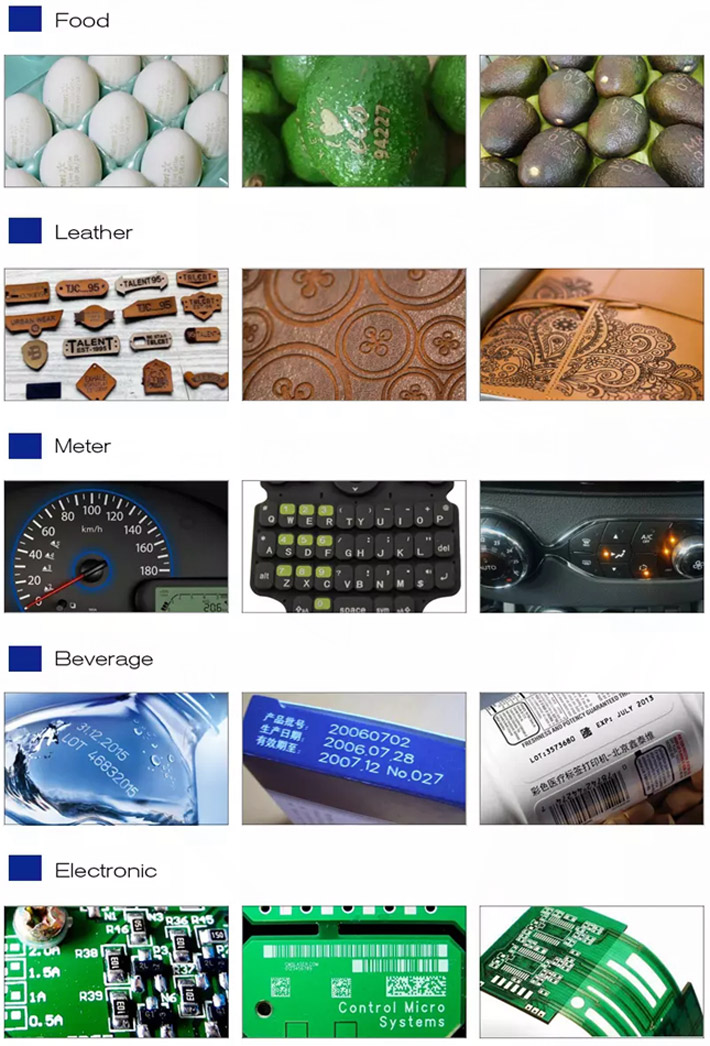 Laser Marking Machine Video