Sublimation fabric ,digital printed fabric is widely used in clothing industries such as cycling wear, swimwear, and sweatshirts. Visual laser cutting machine with CCD camera produced by KINGBECK is professional for digital printed fabric fast and accurate cutting .
Advantages of visual laser cutting machine with CCD camera for sublimation fabric cutting:
1. Save the process: At least 8 processes are required for manual cutting of sublimation fabric – manual spreading, printing layout, paper laying, manual electric cutting, cutting and sorting, cutting to printing workshop, digital printing machine Print the flower machine, manually lay the pieces to the hot packer, and manually arrange the pieces. It takes only 5 steps to use the visual laser cutting machine – the printing workshop directly leads the raw materials of the grey cloth, the printing paper of the digital printing machine, the thermal transfer machine into a roll printing cloth, the laser automatic edge-cutting and the manual sorting.
2. Save labor and improve efficiency: using visual laser cutting machine for sublimation fabric cutting, production efficiency of a machine is equivalent to 3-4 manual work, more orders can be completed in the same time.
3. High accuracy : visual laser cutting machine for sublimation fabric cutting can achieve automatic edge locking, no spinning. Precision cutting, higher accuracy than manual work, avoid material waste.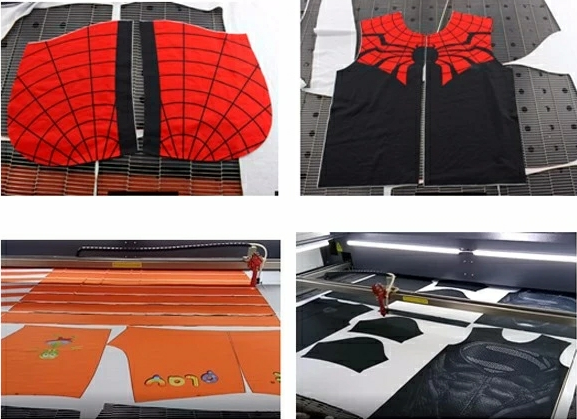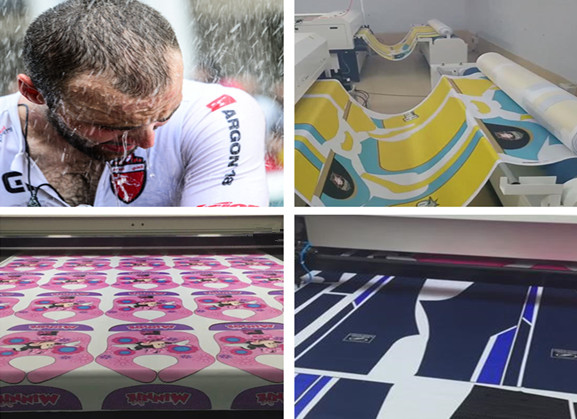 Advantages of the KINGBECK Vision Fabric Laser Cutter:
1. It is equipped with a wide-angle lens, which can recognize a larger range of graphic contours, and can identify the width of 1600X3000mm, which is more efficient for cutting large outlines;
2. Equipped with automatic feeding system, it hasautomatic deviation rectifier, ensurefeeding accuracy , avoiding material waste and reducing the working intensity of workers;
3. Rich experience in sublimation printing and cutting, can help customers quickly use the machine to achieve production, avoid the waste of production costs caused by other factories due to lackingof production experience.